ELECTRONICS NEWS HIGHLIGHT W42.2023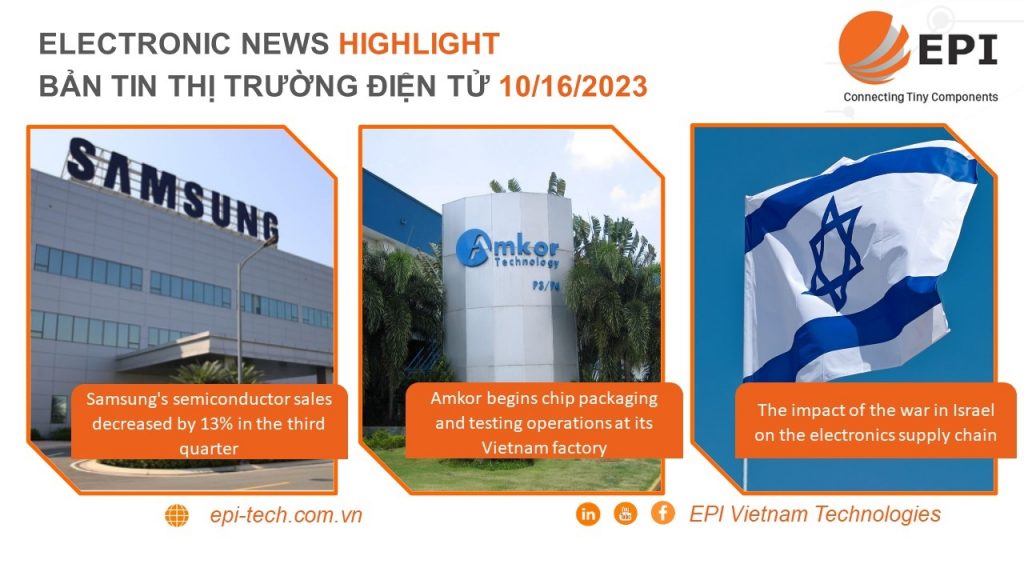 1. Samsung's semiconductor sales decreased by 13% in the third quarter
According to the report, Samsung Electronics experienced its fourth consecutive quarter of sales decline, reflecting the severity of the decline in the entire semiconductor industry.
Samsung Electronics said sales fell about 13% to 67 trillion won ($50 billion) in the third quarter ended September.
Faced with the declining business situation, Samsung and SK Hynix said they will cut production of NAND flash memory chips used in PCs and mobile phones. This helps support DRAM and NAND prices.
Learn more: Samsung's semiconductor sales decreased by 13% in the third quarter
2. Amkor begins chip packaging and testing operations at its Vietnam factory
Amkor has officially opened a $1.6 billion chip packaging and testing factory in Vietnam, this is the latest project in Amkor's semiconductor investment chain in this Southeast Asian country.
Amkor said the facility will use state-of-the-art technology and focus on providing electrical storage, design and testing services to the automotive, telecommunications and advanced computing industries. System in Package (SiP) will be the main project at the facility in Bac Ninh Province, Vietnam.
Amkor Chairman said that the factory in Vietnam will help Amkor supply customers in the region, supporting the regional and global supply chain.
Lean more: Amkor begins chip packaging and testing operations at its Vietnam factor
3. The impact of the war in Israel on the electronics supply chain
The Israel-Hamas conflict is causing disruption to electronics supply chains and affecting multinational technology companies, manufacturing facilities, skilled labor and the movement of goods.
Economic impact: The conflict is causing economic damage due to the large number of multinational technology companies operating in Israel. Many of these companies have research and development centers and manufacturing facilities in the country, including Intel, IBM, Apple, Sony, Microsoft, Google and Facebook.
Human resource problem: when many citizens, including personnel in the semiconductor industry, have to join the army, affecting the operation of factories. In addition, the war also prevented many Palestinian citizens from coming to work in factories. This shortage of personnel is disrupting the production process.
Export disruptions: Shipping disruptions, including flight cancellations and blockades of sea routes, are affecting supply chains. Airlines have suspended flights to and from Israel, affecting tourists and the movement of goods. Sea transport activities also face increased controls, making the transportation of goods more difficult.
Lean more: The impact of the war in Israel on the electronics supply chain