EPI Vietnam Technologies announced Announces Distribution Agreement with Samwha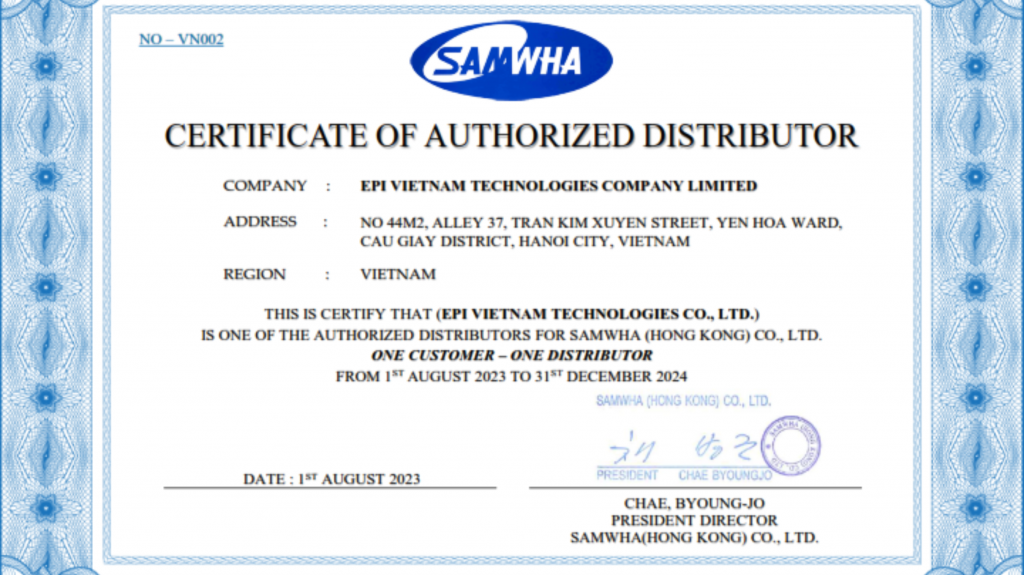 September 19, 2023 – Hanoi, Vietnam: EPI Vietnam Technologies today announced that it has signed a representation and distribution agreement with Samwha, a capacitor manufacturing company from Korea. Samwha's main product lines include multilayer ceramic capacitors (MLCC) , disc ceramic capacitors, EMI filters and film capacitors that are widely used in consumer electronics, computer peripherals and high quality such as industrial and automotive electronics. 
Samwha has established operations and distribution networks in the US, Germany, Poland, China, India and Thailand to meet the needs of customers in different territories. In Vietnam, EPI Vietnam Technologies will be an authorized distributor to promote and sell Samwha products throughout the entire territory of Vietnam. 
About EPI Vietnam Technologies
EPI Vietnam Technologies is the leading electronics component distributor in Vietnam, covering all rapid growing sectors in Vietnam such as Telecom, Consumer, SmartHome, IoT, Automotive. Our goal is to offer exceptional services to our customers, which includes technical support, consultancy, extensive product inventory, door to door delivery and other local support services. 
Learn more about EPI: https://epi-tech.com.vn/
About Samwha
Samwha was founded in August 1956 in Korea. The company is one of the world's largest companies in capacitors. With nearly 70 years of experience in design, research and development of capacitor products, Samwha brings optimal experience to customers. Samwha's vision is to become an innovative company providing products and solutions that maximize energy efficiency in all electronic products (Energy, Electronics, Electricity, Ecology, Environment school…). In 2011, Samwha was honored to receive the "Korean World-class Product Award 2011" certification for products in the top 5 in the world market. This is considered a guarantee of Samwha's top quality. 
Learn more about Samwha: http://www.samwha.co.kr/capacitor_eng/index.asp 
Applications:
Cars: Battery management systems, charging stations, etc. 
Industry: Noise filter, electrical system control, large motor starting,… 
Computer: Desktop, PC,… 
Consumer: Inductor cooker, air conditioner controls, water meters,…