ELECTRONICS NEWS HIGHLIGHTS W26-2023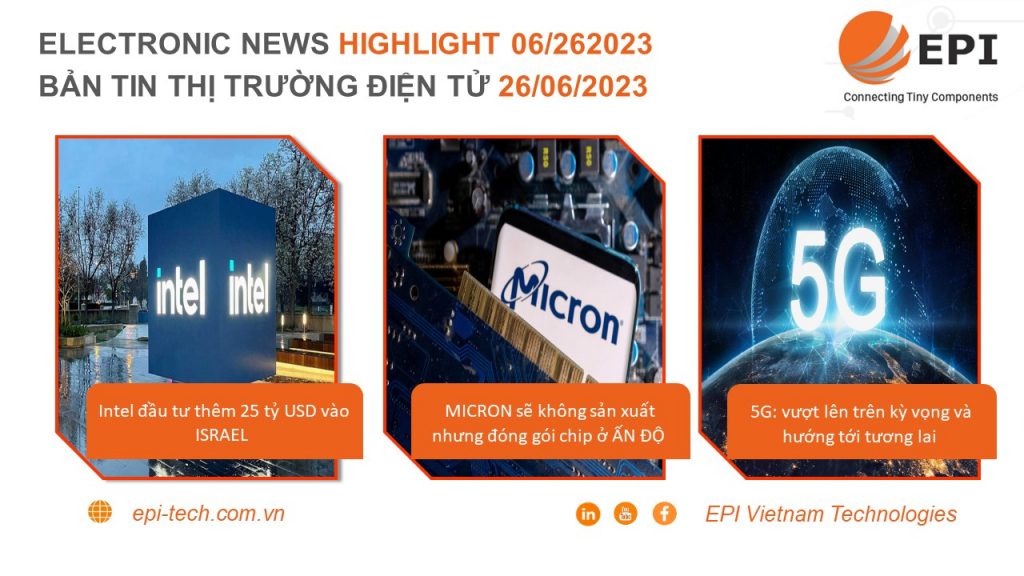 1. INTEL TO INVEST ANOTHER $25 BILLION IN ISRAEL
Israel's prime minister Binyamin Netanyahu announced on Sunday that Intel will invest $25 billion on semiconductor manufacturing facilities in the country. 
To be located in the town of Kiryat Gat, the factory is slated to open in 2027 and operate through at least 2035, according to Israel's finance ministry. Intel will pay an enhanced tax rate of 7.5 percent – up from 5 percent – but also receive a grant worth 12.8 percent of the total investment on the condition Chipzilla's commitments are upheld. 
Chipzilla's website states its two main Israel-based activities are development and manufacturing. It refers to its Kiryat Gat fab as its "most advanced manufacturing facility". An Intel spokesperson told The Reg: "Israel is a global center of technical talent and innovation and one of Intel's significant global manufacturing and R&D centers." 
The expansion further helps diversify semiconductor production, but it comes at a time when many are concerned about investing in Israel. The country has been experiencing protests since January. But with $25 billion coming from Intel, Israel is showing that political problems do not affect domestic investment and manufacturing activities.  
2. MICRON WON'T MAKE BUT PACK CHIPS IN INDIA. KNOW WHY IT'S SO VITAL 
Micron has become the first big global semiconductor company to set foot in India, starting off India's ambitious project to develop self-reliance in manufacturing of semiconductor chips. But the American semiconductor company will not exactly manufacture chips in India. It will set up an assembly, testing and packaging plant at Sanand in Gujarat. 
Assembly, packaging & testing, unlike design and manufacturing, lies at the bottom of the semiconductor value chain and is considered relatively less skill- and capital-intensive. However, it's still a highly technical part of the whole process of making chips and its importance is growing fast. China is the leader in this segment with 38% share, followed by Taiwan at 27% and then nearly 16 per cent share of Japan and South Korea, according to a 2021 report by the Boston Consulting Group and the Semiconductor Industry Association. 
The back-end process of packaging has been undervalued for two reasons: First, it's still possible to package wafers using old-generation equipment. Second, packaging is mostly done by outsourced semiconductor assembly and test companies (OSATs) that compete largely based on low labor costs, rather than other sources of differentiation, according to a report by McKinsey and Company. 
This model may change with the introduction of advanced packaging, which uses sophisticated technology and aggregates components from various wafers, creating a single electronic device with superior performance, says the McKinsey report. Advanced packaging is helping to meet the demand for semiconductors that run emerging applications now going mainstream — for example, 5G, autonomous vehicles and other IoT technologies, the report says. These applications require high-performance, low-power chips that can rapidly process massive quantities of data. This is a promising signal for the component assembly market in the future. 
Details: MICRON WON'T MAKE BUT PACK CHIPS IN INDIA. KNOW WHY IT'S SO VITAL 
3. 5G – BEYOND THE HYPE AND INTO THE FUTURE 
The introduction of 5G networks was supposed to usher in a new era of technology, with wide-scale IoT deployments, connected cars, and high-speed internet. However, it seems that the deployment of 5G hasn't proven to be the success it claimed it would be. What challenges does 5G as a networking technology face, why has it struggled to find success, and what does this mean for the future of networking technologies? 
About the challenge, to support higher bandwidth, 5G uses higher frequencies, but this comes at the expense of a significant reduction in range. Not only is range significantly affected when using higher frequencies, but obstacles such as trees and buildings are also more likely to interfere with reception. Due to this coverage issue, additional local towers are required. However, the construction of local towers will require a huge capital investment and manpower to operate them. Meanwhile, the 4G network is working very well with the existing facilities. 
However, it's important to note that 5G doesn't just offer faster speeds for video streaming. As the UK government has pointed out, 5G is expected to facilitate a range of new services in various sectors, such as smart cities, e-health, energy management, cloud computing, virtual and augmented reality, autonomous vehicles, online games. This is the promising potential for 5G in the future. 
#electronicsnews  
#tintucthitruongdientu  
#chipshortage   
#semiconductorshortage