ELECTRONICS NEWS HIGHLIGHT W47.2023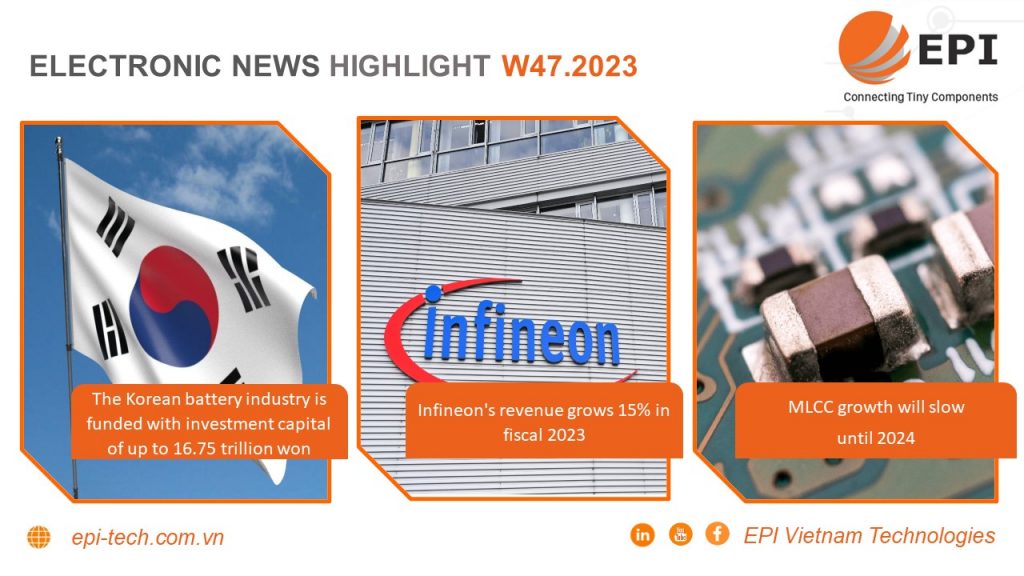 1. The Korean battery industry is funded with investment capital of up to 16.75 trillion won
In 2023, despite the economic downturn and slowing global electric vehicle demand, three major Korean battery companies – LG Energy Solution, SK On and Samsung SDI – invested 16.75 trillion won, increased 8.16 trillion won over last year into the battery industry. 
LG Energy Solution leads in investment with 7.65 trillion won, followed by SK On with 6.66 trillion won and Samsung SDI with 2.44 trillion won. The majority of the investment was allocated to installing facilities, both domestically and internationally, as well as adding production lines. 
The biggest concern for these companies is China's focus on lithium iron phosphate (LFP) batteries, which have lower energy density but are more cost-effective than nickel-cobalt-manganese batteries (NCM) produced by Korean companies. Therefore, to maintain a long-term vision of the electric vehicle industry, a strategy focusing on innovation as well as new product launches to maintain competitiveness is being implemented. LG Energy Solution, SK On and Samsung SDI all announced they will mass produce LFP batteries in the next 3 years. 
Learn more: K-Battery Industry Increases Investment by 8 Trillion Won in 1 Year
2. Infineon's revenue grows 15% in fiscal 2023
Infineon recently announced that revenue for fiscal 2023 was higher than expected, up 15% as demand for semiconductors in electric vehicles and renewable energy continued to grow. 
Infineon's fourth quarter revenue (as of September 2023) increased to 4.15 billion euros from 4.14 billion euros in the same period last year, of which automotive electronics (ATV) revenue was 2.16 billion euros. billion euros, up 12% over the same period last year. 
Looking ahead to fiscal 2024, Infineon expects revenue growth to slow to 17 billion euros, plus or minus 500 million euros, representing an annual increase of 4% and a gross margin of about 45%. Infineon predicts that for the renewable energy sector, electric vehicles (especially in China) and microcontrollers for the auto industry continue to grow steadily. In contrast, consumer applications, personal computers (PCs), smartphones, communications, computing and IoT are experiencing temporary periods of low demand. 
Learn more: Infineon achieves record revenue and earnings in the 2023 fiscal year and expects further revenue growth to € 17 billion and a Segment Result Margin of 24 percent for 2024
3. MLCC growth will slow until 2024 
TrendForce predicts a period of slow growth in global MLCC demand from 2023 to 2024. 
In 2023, the estimated demand for MLCC is about 4.193 trillion units, with a modest annual growth rate of about 3%. Demand is mainly driven by applications in smartphones, automotive electronics and PCs. 
Entering 2024, due to limited industry development opportunities and uncertainties in the economic and political environment, Original Equipment Manufacturers (OEMs) and Original Design Manufacturers (ODMs) have adopted a conservative outlook in production and purchasing. MLCC demand is expected to increase slightly by 3% in 2024, reaching about 4.331 trillion products. 
Large MLCC manufacturing companies in the world are having to come up with strategies to adapt to the market. While, Murata plans aggressive pricing strategies starting from Q1 2024, Samsung and Yageo have reduced the prices of their high-end MLCC products, indicating that the competitive pricing environment in the industry will become more fierce next year. 
Learn more: MLCC Growth to Slow Through 2024