ELECTRONICS NEWS HIGHLIGHT W46.2023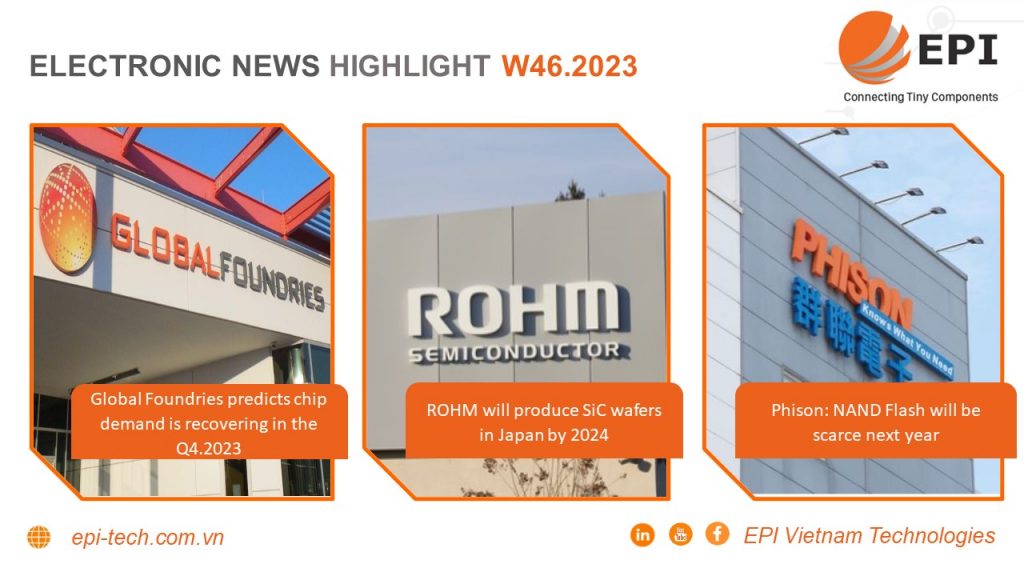 1. Global Foundries predicts chip demand is recovering in the Q4
According to the report, wafer manufacturing company GlobalFoundries forecasts Q4 profits higher than analysts expected, indicating that the semiconductor industry's oversupply situation is easing. 
The forecast reflects positive signs that manufacturers have come up with effective solutions to the inventory situation after the pandemic ends. 
In addition, both Intel and AMD believe that the personal computer (PC) market is recovering, which is considered a key driver to help semiconductor manufacturers grow revenue and clear inventory. 
"While the global economic and geopolitical landscape remains uncertain, we are working closely with customers to support their inventory reduction efforts," said Thomas Caulfield, CEO of GlobalFoundries. Surname". 
 Learn more: GlobalFoundries projects profit above estimates in positive sign for chip market
2. ROHM will produce SiC wafers in Japan by 2024
ROHM Semiconductor recently announced that it will produce 8-inch (200mm) silicon carbide wafers at its second factory in Miyazaki Prefecture, Japan, and is expected to begin operations in 2024. 
To expand business, ensure continuous supply chain operations, and meet the needs of customers in the Asian region, Rohm decided to establish a semiconductor production line in Miyazaki Prefecture, Japan. This is ROHM's second production facility after the first facility in Nuremberg, Germany. 
With its original origins as a factory of Solar Frontier, a subsidiary of Idemitsu Kosan, ROHM's second factory was built to become ROHM's largest silicon carbide semiconductor factory. 
According to Rohm Semiconductor, its goal is to achieve revenue of 100 billion yen in fiscal 2025, while increasing production capacity six times compared to fiscal 2021. 
Learn more: Rohm to manufacture SiC wafers in Japan for the first time
3. Phison: NAND Flash will be scarce next year
The CEO of Phison, the maker of NAND Flash controller chips, said in a recent interview that the NAND Flash market has started to rebound and prices have increased. Meanwhile, manufacturers are still reducing production to control inventory, which could cause NAND Flash prices to increase and shortages in the future. 
"Phison is not a memory chip factory and cannot comment on the strategies of memory chip manufacturers. However, prices are currently low and demand for NAND Flash has clearly grown. Demand is there. can grow significantly in the future," he added. 
Regarding NAND Flash prices, starting from September, Samsung has expanded the reduction of NAND Flash memory output to 50% of total production capacity, with the aim of accelerating inventory clearance and stabilizing NAND Flash prices. Samsung is preparing to gradually increase NAND Flash prices by mid-2024, expected to increase prices by 20% each quarter. This means that within two and a half quarters, Samsung could make three 20% price increases.
Learn more: Phison to prepay for NAND chips, says CEO