ELECTRONICS NEWS HIGHLIGHT W45.2023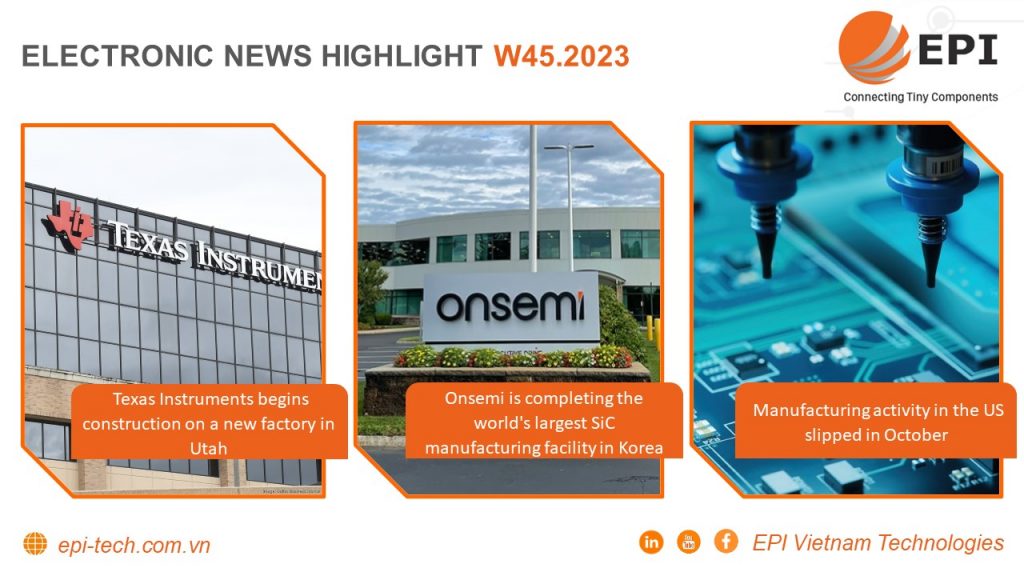 1. Texas Instruments begins construction on a new factory in Utah
Texas Instruments recently broke ground on a new 300mm wafer fabrication facility in Utah. Currently, Utah has a TI semiconductor factory, and having an additional production facility promises tens of millions of embedded processor chips and the like to be created every day. 
In February, TI announced an $11 billion investment in Utah, marking the largest economic investment in the state's history. LFAB2 will create approximately 800 additional TI jobs as well as thousands of indirect jobs, with the first product ready in early 2026. 
LFAB2 will complement TI's existing 300 mm wafer fabs, including LFAB1 (Lehi, Utah), DMOS6 (Dallas), RFAB1 and RFAB2 (both in Richardson, Texas). TI is also building four new 300 mm wafer fabs in Sherman, Texas (SM1, SM2, SM3 and SM4). 
Learn more: Texas Instruments breaks ground on Utah-based semiconductor plant
2. Onsemi is completing the world's largest SiC manufacturing facility in Korea
Onsemi recently celebrated the successful completion of the S5 production line at its Bucheon, South Korea facility. This milestone is part of ON Semiconductor's substantial investment of $1.04 billion, which was publicly announced in July 2022. Currently, a number of devices have already been integrated into the S5 production line and are commencing their operational phase. 
According to Onsemi, the Bucheon plant is positioned to become the world's largest silicon carbide (SiC) production facility, with the objective of finalizing equipment installation by 2024. This transformative development is set to establish Bucheon City as a global SiC production hub. By 2025, the Bucheon plant is anticipated to achieve an annual SiC semiconductor production capacity of 1 million units, contributing 35% to 40% of Onsemi's overall output. 
Onsemi has outlined that if all the production equipment in Bucheon City can be fully operational, the annual production capacity could indeed reach 1 million units. In pursuit of this ambitious objective, the company plans to bolster its workforce. Over the next three years, Onsemi intends to hire up to 1,000 new employees for its Korean operations. This expansion is a substantial step in the company's strategy to enhance its presence in the SiC semiconductor industry.
Learn more: Onsemi Completes Expansion of Silicon Carbide Production Facility in Bucheon, South Korea
3. Manufacturing activity in the US slipped in October
Manufacturing activity in the US unexpectedly fell at a faster pace in October as demand for manufactured goods failed to materialize. The Institute for Supply Management PMI fell 2.3% last month to 46.7; new orders decreased 3.7% to 45.5. 
In response to weak market conditions, many companies have had to lay off staff. "Manufacturers clearly have material and labor cost issues, and they know demand in Q4 won't be too great," said Tim Fiore, chairman of ISM's manufacturing survey committee. Layoffs are the fastest way to cut costs." Besides, manufacturers have also cut production output to minimize inventory risks while focusing more resources on sales and marketing to drive higher sales as well as entering new markets. 
Learn more: Manufacturing Activity Slips in October