ELECTRONICS NEWS HIGHLIGHT W44.2023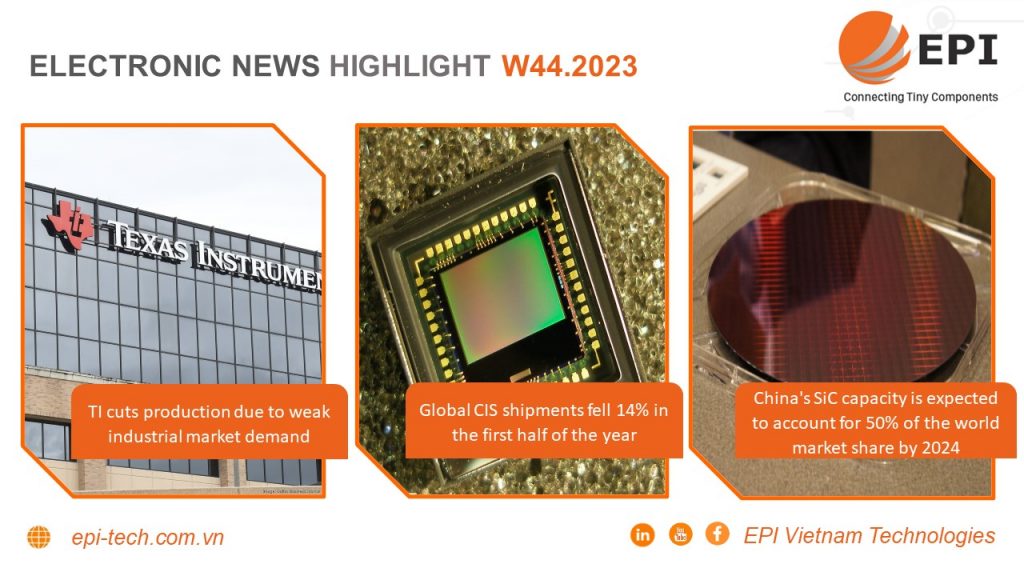 1. TI cuts production due to weak industrial market demand
Texas Instruments has just announced its decision to cut production due to reduced demand in the industrial market, revenue and profits will be lower than expected in the fourth quarter of 2023. The production cut will help reduce inventory and maintain gross profit margin. 
TI said sales in the industrial market, the company's largest revenue share, fell more than 10% in the third quarter, with declines in all regions except Japan. 
Although the industry was previously expected to recover once the global COVID19 ended, this recovery did not materialize as most expected. Analysts said TI's forecast reflects a further decline in demand in the industrial sector that is likely to last for at least the next few quarters. 
Learn more: TI to cut production due to weak industrial market demand

2. Global CIS shipments fell 14% in the first half of the year
According to Counterpoint Research, global smartphone CMOS image sensor (CIS) shipments fell 14% year-on-year to 2 billion units in the first half of 2023 due to weak market demand. 
Counterpoint Research believes that the average number of cameras per smartphone will continue to decline to 3.8 in the first half of 2023 from 3.9 in the second half of 2022. Android OEMs, especially Chinese OEMs, has been actively reducing the number of cameras to save costs or space. At the same time, the integration of cameras, processors and algorithms is core to improving overall camera performance and image quality. 
From a supplier perspective, Sony was the only supplier to see year-over-year growth in CIS shipments in the first half of 2023, driven by the strong performance of Apple's iPhones, which remained resilient in market downturn period. Both Samsung and OmniVision experienced varying degrees of year-over-year declines due to weak sales and stock adjustments in the Android market.  
Counterpoint Research believes that although the end market remains weak, smartphone OEMs are expected to start replenishing inventory in the third quarter in preparation for new mobile phone launches. However, the recovery will be quite slow compared to the first half of the year due to macroeconomic difficulties. It is expected that CIS global smartphone shipments will decline 10% year-on-year to 4.2 billion units throughout 2023. 
Learn more: Counterpoint – Global Smartphone
3. China's SiC capacity is expected to account for 50% of the world market share by 2024
According to the report, China's silicon carbide (SiC) production capacity has increased significantly since 2023, forecasting that China's silicon carbide wafer market share in the world will reach 50% in 2024. 
The report points out that companies such as SICC Co., Ltd., TankeBlue Semiconductor Co. Ltd. and SanAn Optoelectronics have both invested in increasing SiC wafer production capacity. The current total monthly production capacity of these Chinese companies is about 60,000 wafers. With the expansion of production capacity, it is expected that monthly production capacity will reach 120,000 units in 2024 and annual production capacity will be 1.5 million units. 
Bosch, STMicroelectronics, Infineon, etc. have recently signed SiC contracts with Chinese companies, showing that China's position in the supply chain is growing rapidly. 
Analysts said that the current global market mainly uses 150mm SiC wafers. Product prices are expected to decline significantly by 2024 as manufacturers expand production, which will present a challenge for less competitive manufacturers. 
Learn more: More than half of the world's SiC wafers might come from China in 2024