ELECTRONICS NEWS HIGHLIGHT W43.2023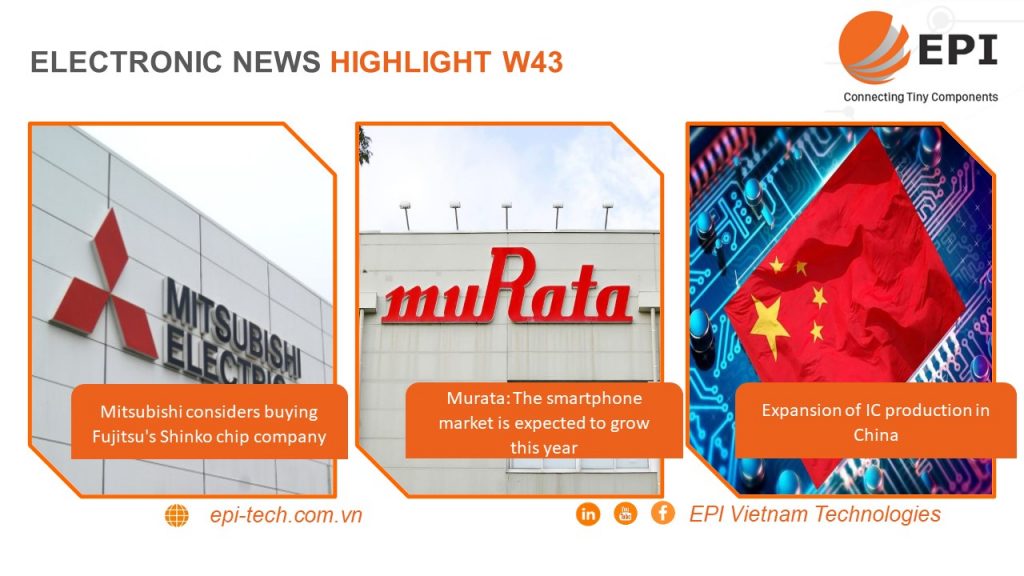 Mitsubishi considers buying Fujitsu's Shinko chip company
Mitsubishi is considering entering the semiconductor manufacturing industry by acquiring Shinko Electric Industries, Fujitsu's chip manufacturing subsidiary. 
Sources say Mitsubishi is exploring the possibility of participating in semiconductor additive manufacturing (packaging and testing). 
It is known that Fujitsu has decided to sell 50% of its shares in Shinko, worth about 2.6 billion USD at the current market price. Company such as Bain Capital, KKR, Apollo Global Management and Japan Investment Corp are all interested in a bid. 
Shinko is a chip supplier to chip companies such as Intel and AMD. Shinko's side has not yet made any comments. 
Learn more: Mitsubishi Corp considering bid for Fujitsu's chip unit Shinko Electric -sources
Murata: The smartphone market is expected to grow this year
Chairman Murata said that the global smartphone market has passed the bottom and will recover this year. 
He said the global smartphone market is likely to see growth driven by low-cost smartphones in India, Southeast Asia and Africa. The development and increase in demand for 5G networks in India is considered the main driving force behind the recovery of the smartphone market. India is currently the most populous country in the world with the lowest internet prices in the world. In addition, president Murata said that China is already one of the countries with a high 5G adoption rate, so the demand for the smartphone market in this country will not have too many fluctuations. 
Learn more: Tech bellwether Murata sees smartphone market growing this year, driven by 'promising' demand in India
Expansion of IC production in China
From 2023 to 2027, China will expand production scale for integrated circuits (ICs), especially processes larger than 28nm, expected to increase from 29% to 33%. This growth is driven by government policies and incentives that support domestic IC manufacturing and development. 
China's increase in output will disadvantage Taiwan, whose market share is expected to decrease from 49% to 42% over the same period. Areas where China has many advantages include: Discrete components (Mosfet, IGBT), high-power driver ICs and CIS/ISP technology for image sensors. Chinese companies such as SMIC, Nexchip, OPPO, Vivo and Xiaomi are also gradually asserting their position with their quality products and extremely reasonable prices. All this can lead to global price wars, when products coming from China have good finishes and lower prices compared to other countries. 
Learn more: China's IC Expansion Could 'Ignite Price War'