ELECTRONICS NEWS HIGHLIGHT W41.2023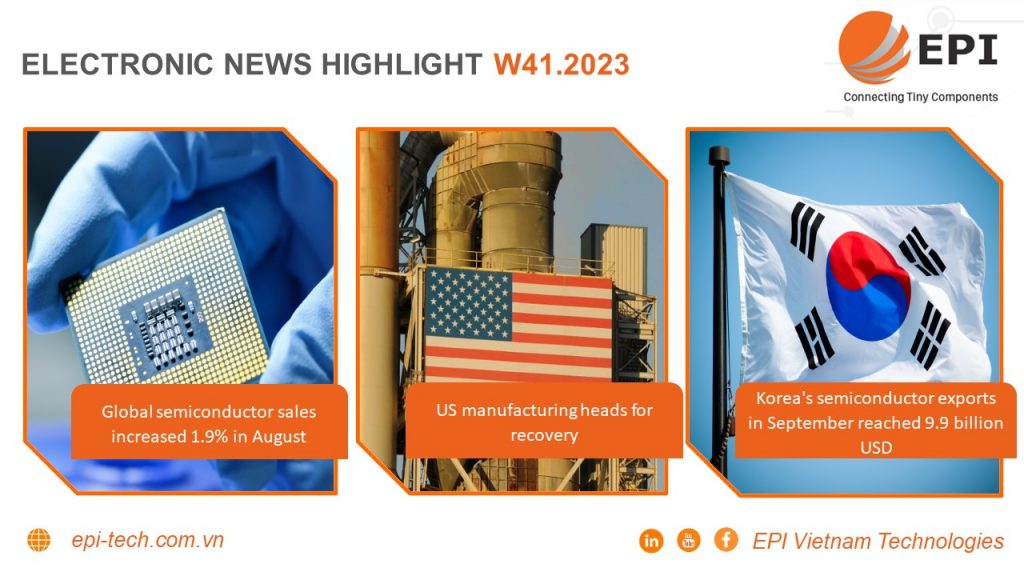 1. Global semiconductor sales increased 1.9% in August
According to the latest report of the Semiconductor Industry Association (SIA), global semiconductor industry revenue totaled 44 billion USD in August 2023, up 1.9% from 43.2 billion USD in August 2023. 7 in 2023, but down 6.8% from $47.2 billion in August 2022. 
Global semiconductor sales have increased for six consecutive months, indicating a slow and steady increase in market demand during the middle of the year, SIA Chairman and CEO said. This is considered a positive sign that the market is gradually recovering in the second half of 2023. 
By region, monthly sales increased in the Americas (4.6%), China (2.0%), and Asia Pacific (1.2%), but decreased slightly in Japan (-0 .4%) and Europe (-1.1%).
Learn more: Global Semiconductor Sales Increase 1.9% Month-to-Month in August
2. US manufacturing heads for recovery
US manufacturing activity moved closer to a recovery in September with employment and production rising and prices falling. The Institute for Supply Management's factory index, PMI, hit 49% last month – its highest level since November 2022. 
According to PMI index statistics, welding inventory has decreased to 1.7%. Manufacturing employment increased 2.7% and supplier delivery times were faster for the 12th consecutive month. All of the above factors are creating stability for the supply chain in the US. Although oil prices continue to increase and affect factories more or less, many businesses surveyed are feeling optimistic about the last six months of 2023. Industries such as aerospace, automobiles and Electronics are said to be potential customers of manufacturing factories in the US in the near future. 
Learn more: U.S. Manufacturing Inches Toward Recovery
3. Korea's semiconductor exports in September reached 9.9 billion USD
According to Korea's export report, semiconductor exports reached 9.9 billion USD, the highest level since October last year. 
Exports in Korea had a major setback last October due to the impact of the global economic situation. Entering this year, many experts thought that this situation would last until the end of 2023. However, semiconductor exports in Korea have continuously grown slightly and reached nearly 10 billion USD in September, a milestone highest this year. This is a sign that the semiconductor industry has gradually entered the recovery phase. 
China is the market to which Korea exports the most IT products, semiconductors, as well as smartphone screens and camera modules. Exports to the United States increased by 9% and the European Union increased by 7%, continuous growth for 2 consecutive months, bringing positive signs for the economy in Korea. 
Learn more: Korean Semiconductors Reach US$9.9 Billion in Exports in September, One-year High