ELECTRONICS NEWS HIGHLIGHT W40.2023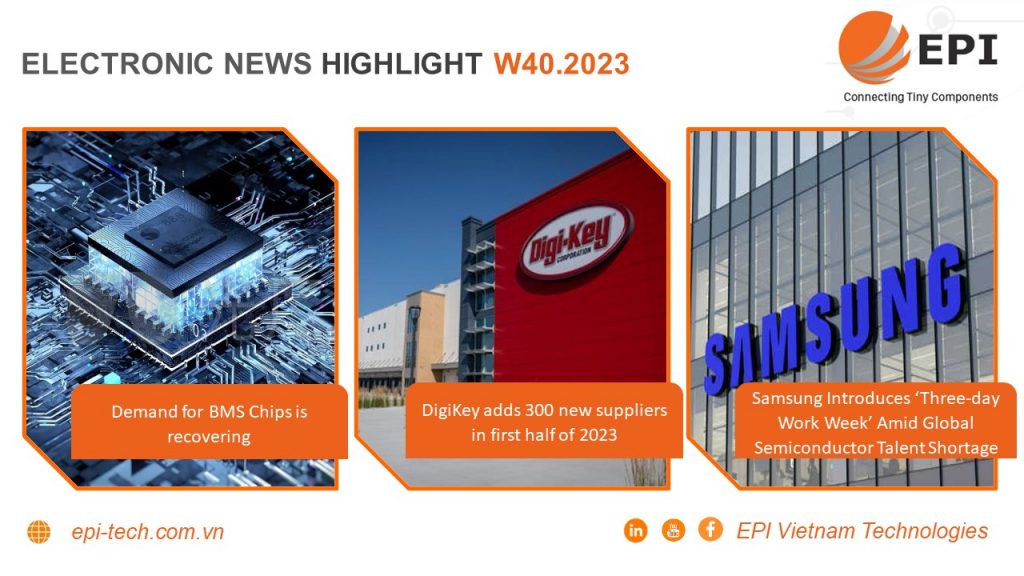 1. Demand for BMS Chips is Recovering
As the global electric vehicle market continues to grow, and the demand for batteries for electronic devices increases, the demand for Battery Management System (BMS) chips is expected to rise in the second half of 2023. 
Due to the high-quality, charging efficiency, and safety requirements of automotive applications, most BMS chip suppliers for automobiles are top-tier manufacturers such as Texas Instruments and NXP. On the other hand, secondary brands like Nuvoton Technology and Holtek mainly target consumer electronic devices such as electric bicycles/motorcycles, wireless vacuum cleaners, and household cleaning robots. 
Experts in the supply chain industry report that inventory levels have been adjusted over the past year due to market downturns. Currently, some inventories have returned to normal levels, which is evidence that the demand for BMS chips is recovering and expected to increase gradually in the future.
Learn more: Supply chain BMS chip demand is rebounding
2. DigiKey adds 300 new suppliers in the first half of 2023
Digikey has announced the expansion of its product portfolio in the first half of 2023, adding 300 new suppliers to the business. 
"DigiKey focuses on adding the newest, most advanced technologies, bringing the most options to the technical community," said DigiKey Vice President of Global Business Development. 
Some of the key suppliers added to DigiKey's portfolio in 2023 include: Alps Alpine, Amphenol LTW, Ambiq Micro, Helukabel and Zettler Magnets. This partnership enables DigiKey to expand further into the industry with more advanced controllers, sensors, motors and industrial automation products. Digikey is currently an authorized distributor of electronic components from more than 2,400 suppliers.
Learn more: DigiKey Adds 300 New Suppliers in First Half of 2023
3. Samsung Introduces 'Three-day Work Week' Amid Global Semiconductor Talent Shortage
Samsung Electronic's Discrete semiconductor Department in North America has just taken the unprecedented step of introducing a policy of being in the office three days a week to improve the growing shortage of human resources in the semiconductor industry. 
With the "3 working days/week" policy, employees will only have to come to the company for 3 days and combine it with working from home. Samsung expects that this combined work system will increase employee satisfaction and help attract talent from other areas. Reducing travel time and saving costs related to office operations are considered advantages of this policy. 
The significant change in Samsung's work system is driven by increasingly fierce competition for talent in the United States as global semiconductor companies are increasing investments. Although these companies are increasingly establishing factories and R&D facilities in the US, most face challenges in recruiting skilled workers. 
According to consulting firm Oxford Economics, by 2030, the US semiconductor industry will need 460,000 workers, but at the current rate there will be a shortage of 67,000. Notably, TSMC, the world's leading semiconductor manufacturer headquartered in Taiwan, has delayed the operation of its new factory in Arizona by one year to 2024 due to lack of manpower. Samsung is also making every effort to ensure staffing for its factory in Taylor, Texas, expected to operate in the second half of 2024. 
Learn more: Samsung Introduces 'Three-day Work Week' Amid Global Semiconductor Talent Shortage