ELECTRONICS NEWS HIGHLIGHT W39.2023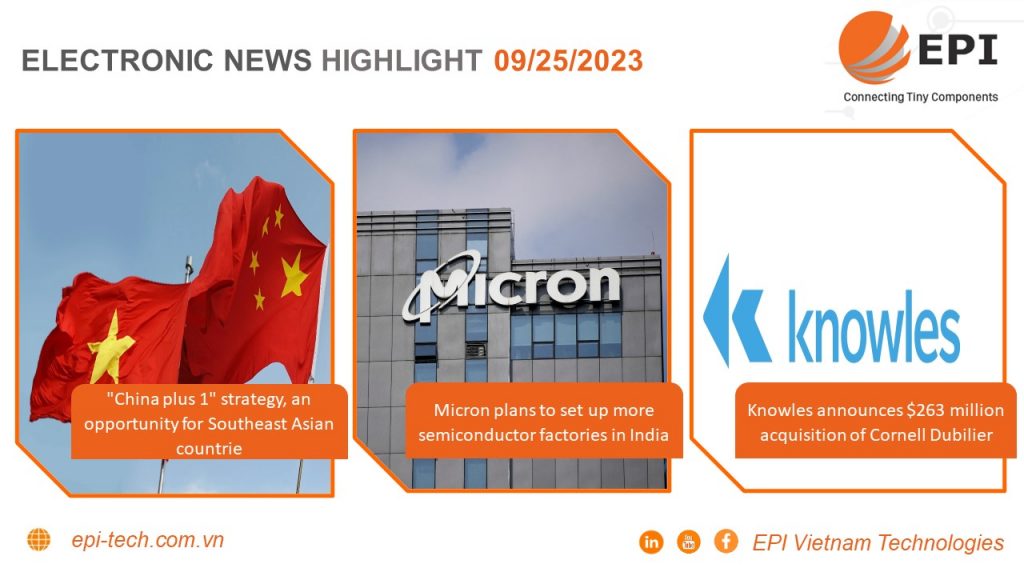 1. "China plus 1" strategy, an opportunity for Southeast Asian countries
Known as "World's Factory", China has for many years occupied an irreplaceable position in the global supply chain. They did it thanks to an abundant source of cheap labor, supported by government policies and investments, excellent infrastructure conditions and a good supply system, which created a competitive advantage, that hardly any country can compare. 
However, in recent years, for many reasons, China's position has been shaken. First is the impact of the Covid-19 pandemic originating from this country. With the Zero-Covid policy, all production activities have stagnated, leading to shortages and disruptions in the global supply chain. Next is the increase in labor costs in China. And finally, there is the impact of US sanctions on this country. For all of the above reasons, China is no longer a perfect destination for investors. And this is when the "China plus 1" strategy was born. 
The "China plus 1" strategy is to redirect investment from China to neighboring locations, with affordable labor costs, stable political conditions and infrastructure that meets production requirements. Currently, potential alternatives are India, Vietnam, Thailand, Malaysia, etc. These countries are witnessing an increase in investment from foreign companies such as Apple building machines manufactured in India, Foxconn, Murata expanding production facilities in Vietnam, etc. This is considered a good sign in the future for Southeast Asian countries, when they can develop their position in the global supply chain.
Learn more: Doing "China Plus One" Right
2. Micron plans to set up more semiconductor factories in India
As per reports from India's Ministry of Electronics and Information Technology, Micron has expressed its intention to establish multiple semiconductor assembly and packaging facilities within India. Alongside this forthcoming manufacturing unit, Micron has demonstrated a positive outlook for the long-term prospects of the Indian market. 
It has been reported that Micron's initial investment in India has triggered a shift in attitude among other semiconductor industry players, leading them to consider India as a significant component of their semiconductor assembly and manufacturing strategies. 
Micron's inaugural successful investment in India is poised to deliver dual advantages. Firstly, it will serve as a model for other enterprises and potential investments. Secondly, it is anticipated that companies operating within India will experience enhanced value and potential for further expansion. 
In earlier reports, Micron's CEO, Sanjay Mehrotra, had announced in July that the company had earmarked an investment of $820 million for the establishment of a semiconductor assembly, testing, marking, and packaging (ATMP) facility in Sanand, Gujarat.
Learn more: Micron set to break ground for chip unit
3. Knowles announces $263 million acquisition of Cornell Dubilier
Knowles Corp. has recently unveiled its acquisition plans, disclosing that it will purchase capacitor manufacturer Cornell Dubilier for a sum of $263 million in cash. Following the acquisition, Cornell Dubilier is set to become an integral part of Knowles' Precision Devices business division. Concurrently, Knowles is actively exploring strategic alternatives for its consumer MEMS microphone business. 
Furthermore, Knowles has articulated its commitment to retaining its medical microphones, balanced armature speakers, and other audio-related products. These strategic maneuvers are strategically designed to reshape Knowles into an industrial technology enterprise, with a sharp focus on delivering high-value products within rapidly growing markets. 
In the event that the acquisition receives the necessary approvals and successfully concludes, Cornell Dubilier's extensive lineup of thin film, electrolytic, and mica capacitors will be seamlessly integrated into Knowles' existing product portfolio. Cornell Dubilier's capacitor products find applications across various sectors, including medical technology, military, aerospace, and industrial electrification. The company boasts a workforce of approximately 1,000 employees, generates an annual revenue of around $135 million, and serves an extensive customer base of over 35,000. 
Jeffrey Niew, Knowles' CEO, expressed enthusiasm about the acquisition, stating, "Incorporating Cornell Dubilier's impressive array of OEM and distribution partners, along with their leadership in capacitor technology, will broaden the scope of applications for Knowles' products." The acquisition is slated to conclude in the fourth quarter of 2023, subject to regulatory approvals and the fulfillment of customary closing conditions. 
Learn more: Knowles announces $263 million acquisition of Cornell Dubilier