Ultra-Low IQ TCR3UG and TCR3UM Low-Dropout Regulators
Toshiba's innovative LDO technology has led to the creation of a range of ultra-low quiescent current LDOs, packaged in the market's smallest 300 mA options. These LDOs are a smart selection for cost-effective and compact systems.
With a minimal IQ current of 0.38 μA on average, they effectively extend the battery life of single-cell Li-ion batteries. This is particularly valuable for "always-on" or "standby mode" applications. Furthermore, their impressive attributes like PSRR (70 dB) and rapid transient response (<60 mV) remain uncompromised, offering users exceptional LDO performance within a compact form factor and minimal quiescent current.
The TCR3UG is encased in a compact WCSP4F package measuring just 0.65 mm x 0.65 mm x 0.33 mm, boasting a 0.35 mm ball pitch. This conforms to industry standards and is designed to optimize space utilization on circuit boards.
On the other hand, the TCR3UM is housed in a more robust industry-standard DFN4 package measuring 1.0 mm x 1.0 mm x 0.58 mm, making it easier to handle and solder.
The TCR3UG and TCR3UM series of LDOs stand out as ideal voltage regulators for various designs, particularly those emphasizing longevity and minimal quiescent current.
Features:
Compact LDO packaging measuring 0.65 mm x 0.65 mm x 0.33 mm in WCSP4F form
Sturdy LDO packaging measuring 1.0 mm x 1.0 mm x 0.58 mm in DFN4 format
Exceptionally low standby current: 0.34 μA typically at an output of 1.2 V
Fixed-output voltage: available within the range of 0.8 V to 5.0 V
Maintains regulated voltage within ±60 mV during varying load conditions
Voltage accuracy of 1%
Impressive 70 dB PSRR at 1 kHz
Up to 327 mV dropout at an output of 3.3 V
Swift transient response
Bypass mode capability
Thermal shutdown feature
Reduction in inrush current
Safeguarded against overcurrent
Incorporates an enable pin
Optional automatic discharge of output capacitor upon shutdown
Applications:
Voltage control supporting currents of up to 300 mA
Continuous operation subsystems
Redirecting power away from PMIC to enable "active standby" state
Power supply for NFC
Facilitating cameras and CMOS image sensors
Utilized with single-cell Li-ion batteries
Applied in wearable electronic devices
Powering IoT modules with battery operation
Quiescent Current and Transient Response Graph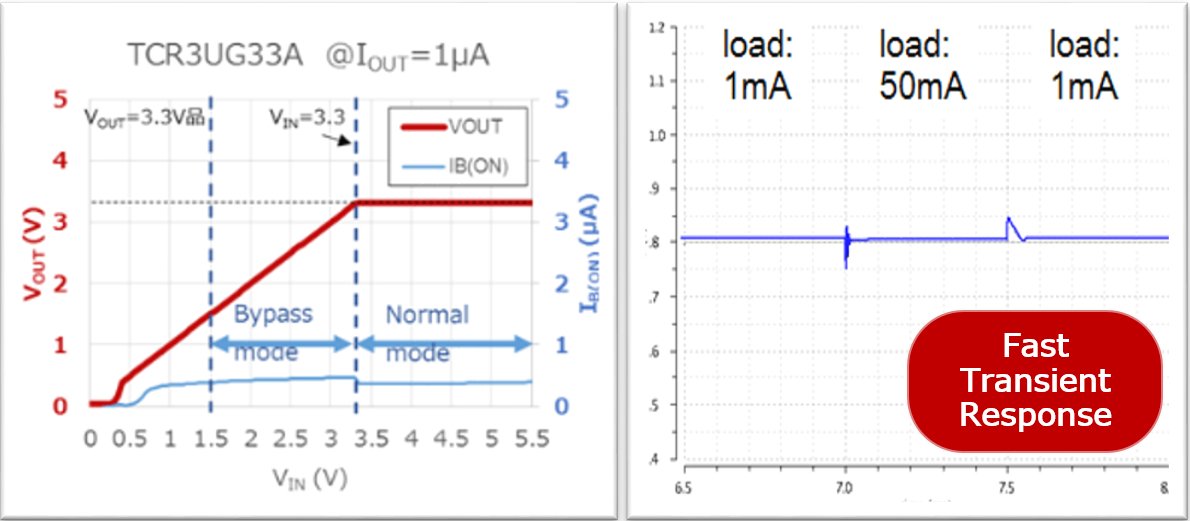 Contact EPI Vietnam Technologies – the authorized distributor of TOSHIBA in Vietnam for technical support and samples.