ELECTRONICS NEWS HIGHLIGHTS W34.2023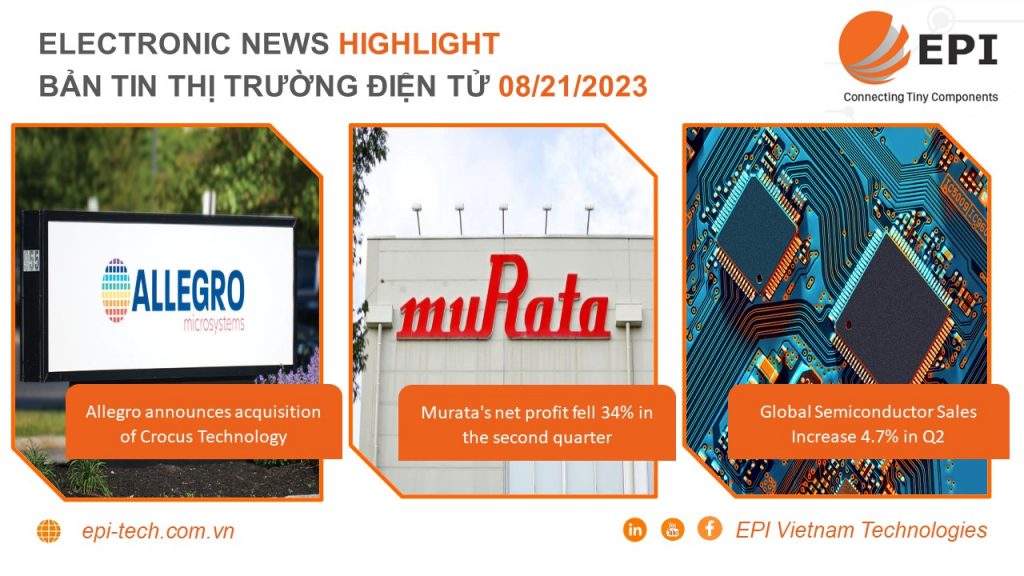 1. Allegro announces acquisition of Crocus Technology
Allegro MicroSystems, Inc. recently announced that it has signed a definitive agreement to acquire Crocus Technology ("Crocus") for $420 million in cash. 
Crocus is a privately held company and a leader in advanced Tunnel Magnetoresistance ("TMR") sensor technology. This acquisition brings unique technology and products well suited to serve high-growth applications in e-Mobility, Clean Energy and Automation, supported by more than 200 patents. The magnetic sensing market is expected to increase to over $5 billion by 2030, with TMR representing the fastest growing segment and expected to approach $1 billion in addressable market by 2030. Automotive and Industrial applications are expected to fuel TMR's estimated 30% CAGR, which significantly exceeds the growth of the overall magnetic sensing market. 
"Allegro has invested in TMR technology for the past decade, providing our customers with innovative and high-performing solutions enabling them to design products with optimal performance. We are seeing broader application of TMR technology as the megatrends of Electrification and Automation accelerate. This highly complementary acquisition aligns perfectly with Allegro's growth initiatives and our focus on e-Mobility, Clean Energy and Automation," said Vineet Nargolwala, President and CEO of Allegro. "In addition to accelerating our TMR roadmap and further strengthening our leadership in Magnetic Sensors, the acquisition will allow us to offer a broader and more differentiated product offering to benefit our customers. We also welcome the deep expertise and technical talent that Crocus will add to the Allegro team." 
Zack Deiri, President and CEO of Crocus said, "The Crocus team is excited to join Allegro and unite complementary expertise to create superior, highly differentiated customer solutions. By combining Crocus' best-in-class advanced TMR technology with Allegro's long-standing partnerships with leading Automotive and Industrial OEMs and Tier-1's, together, we expect to accelerate adoption of TMR in targeted Automotive and Industrial markets. I am very proud of what Crocus has accomplished and am excited to optimize our TMR technology's full potential together with Allegro." 
The planned acquisition of Crocus will be funded with a combination of cash on hand and a new debt issuance. The transaction has been approved by the board of directors of both companies. Subject to customary regulatory approvals and closing conditions, the transaction is expected to close by the end of calendar year 2023. Approval by Allegro's stockholders is not required in connection with the proposed transaction.  
Learn more: Allegro MicroSystems to Acquire Crocus for $420M
 2.
Murata's net profit fell 34% in Q2-2023
Murata Manufacturing Co., Ltd. announced its financial report for the second quarter of 2023 on July 31. Affected by the sluggish demand for smartphones, Murata's net profit in the second quarter decreased by 34% year-on-year to 50 billion yen, which was the fifth consecutive quarter of decline. 
Murata's sales in the second quarter were 367.6 billion yen, a year-on-year decrease of 16%; operating profit was 50.1 billion yen, a decrease of 45%. Since Murata's smartphone components account for nearly 40% of the overall sales, market trends in the smartphone industry have a greater impact on it. The downturn in the Chinese market has affected Murata's second-quarter performance. 
Murata believes that demand for smartphones tends to improve from July to September, as North American manufacturers start production. Murata said they are meeting directly with Chinese customers but have yet to feel the strength of the recovery in demand. 
In terms of automotive business, Murata said that traditional cars use 3,000 multilayer ceramic capacitors (MLCCs) each, while pure electric vehicles that support autonomous driving will carry more than three times the number. Murata's goal is to expand the sales of automotive MLCCs, so that more than 30% of the company's sales will come from automotive products in the medium and long term.  
Learn more: Murata's net profit fell 34% in the second quarter
 3.
Global Semiconductor Sales Increase 4.7% in Q2-2023
According to the Semiconductor Industry Association (SIA), worldwide semiconductor sales totaled $124.5 billion in the second quarter of 2023, up 4.7% from the first quarter of 2023 but down 17.3% from the second quarter of 2022. Global sales in June 2023 were $41.5 billion, up 1.7% month-on-month. 
"Although global semiconductor sales in 2023 remain behind the totals from last year, revenue ticked up in June for the fourth consecutive month and notched solid quarter-over-quarter increases, providing optimism the market will continue to rebound over the second half of the year", said John Neuffer, SIA president and CEO. 
Regionally, month-to-month sales increased in the Americas (4.2%), China (3.2%), Japan (0.9%), and Europe (0.1%), but fell slightly in Asia Pacific (-0.5%). 
Learn more: Global Semiconductor Sales Increase 4.7% in Q2 Compared to Q1