ELECTRONICS NEWS HIGHLIGHT W38.2023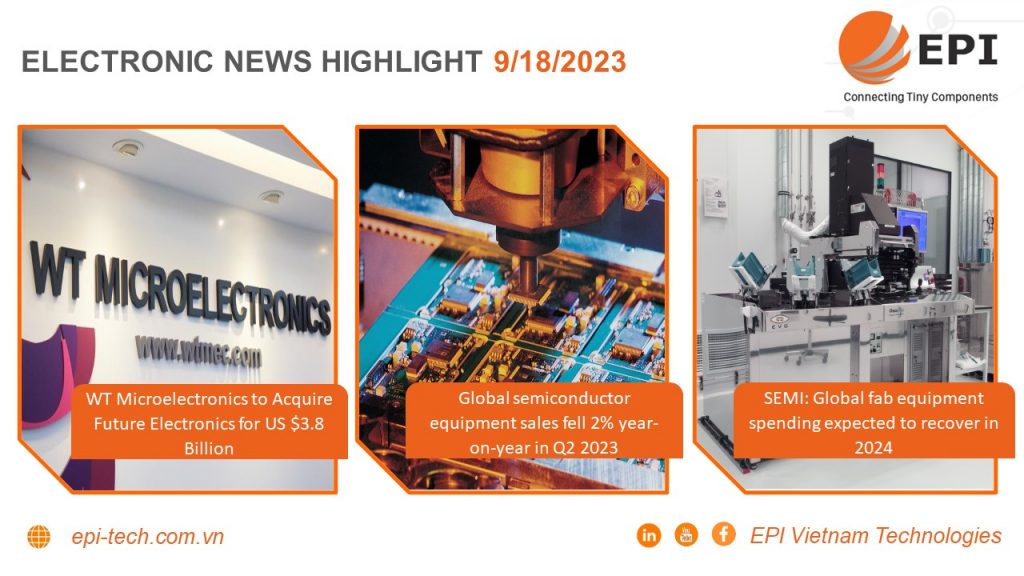 1. WT buys Future for USD 3.8 Billion
WT Microelectronics has acquired Future Electronics, a world-famous electronic components distributor headquartered in Canada, for $3.8 billion. 
WT Microelectronics is an authorized distributor for many world-renowned semiconductor brands, including Analog Devices, Allegro Microsystems, Intel, Microchip, Micron, NXP, onsemi, Renesas, Silicon Labs, STMicroelectronics, Skysorks, etc. 
The insider pointed out that WT Microelectronics has a large market share in Asia. After buying Future Electronics, it will expand its brand line and enhance its competitiveness in the global distribution market. 
According to public information, WT ranks fourth in the global electronic component distributor rankings in 2022, with the top three being Arrow, WPG group, and AVNET.
Learn more: WT Microelectronics to Acquire Future Electronics for US$3.8 Billion
2. Global semiconductor equipment sales fell 2% year-on-year in Q2.2023
According to the latest report released by SEMI, global semiconductor equipment sales fell by 2% year-on-year to $25.8 billion in the second quarter of 2023, a decrease of 4% from the previous quarter. 
"Overall demand for capital equipment remains strong despite uncertainty that continued to pervade the macroeconomy in the first half of 2023," said Ajit Manocha, SEMI president and CEO. "During the report period, some semiconductor market segments exercised caution in making capital equipment investments, though the impact across regions varied."
Learn more: Global semicon equipment billings dipped 2% y-o-y to US$25.8b in 2Q2023, says SEMI
3. SEMI: Global fab equipment spending expected to recover in 2024
According to SEMI's latest report, weak chip demand and rising consumer and mobile device inventories will lead to a decline in fab equipment sales in 2023. Global fab equipment spending at front-end facilities is expected to decline 15% year-over-year to $84 billion in 2023 from a record $99.5 billion in 2022, before rebounding 15% year-over-year to $97 billion in 2024. 
SEMI pointed out that a recovery in fab equipment spending next year will be driven in part by the end of semiconductor inventory adjustments in 2023 and stronger semiconductor demand in high-performance computing (HPC) and memory. 
"The 2023 decline in equipment investment is proving shallower and the 2024 rebound stronger than expected earlier this year," said Ajit Manocha, SEMI president and CEO. "The trend suggests the semiconductor industry is turning the corner on the downturn and on a path back to robust growth fueled by healthy chip demand." 
Learn more: SEMI: Global fab equipment spending expected to recover in 2024